The Women Authors Book Club is a group of readers who get together about every six weeks at the Carrollwood Cultural Center to discuss a contemporary or classic, fiction or nonfiction, piece of literature written by a woman.
For more information, please contact the group organizer, Debbie Doliner, at debdoliner@gmail.com.  
Upcoming Women Authors Book Club Meetings & Events
Oct
7
Mon
Women Authors Book Club
Oct 7 @ 7:15 pm – 9:00 pm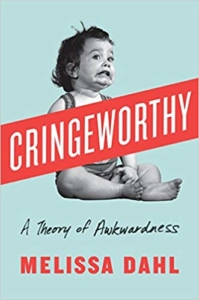 Cringeworthy: A Theory of Awkwardness by Melissa Dahl
Have you ever said goodbye to someone, only to discover that you're both walking in the same direction? Or had your next thought fly out of your brain in the middle of a presentation? Or accidentally liked an old photo on someone's Instagram or Facebook, thus revealing yourself to be a creepy social media stalker?
Melissa Dahl, editor of New York magazine's "Science of Us" website, has. After a lifetime of cringing, she became intrigued by awkwardness: a universal but underappreciated emotion. In this witty and compassionate book, Dahl explores the oddest, cringiest corners of our world. She chats with strangers on the busy New York City subway, goes on awkward friend dates using a "Tinder-for-friendship" app, takes improv comedy lessons, and even reads aloud from her (highly embarrassing!) middle school diary to a crowd of strangers.
After all of that, she realizes: Awkward moments are opportunities to test yourself. When everyone else is pretending to have it under control, you can be a little braver and grow a little bigger–while remaining true to your awkward self. And along the way, you might find that awkward moments unite us in our mutual human ridiculousness.
Nov
18
Mon
Women Authors Book Club
Nov 18 @ 7:15 pm – 9:00 pm
The Masterpiece by Fiona Davis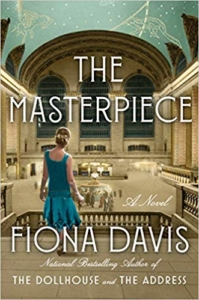 For the nearly nine million people who live in New York City, Grand Central Terminal is a crown jewel, a masterpiece of design. But for Clara Darden and Virginia Clay, it represents something quite different.
For Clara, the terminal is the stepping stone to her future, which she is certain will shine as the brightly as the constellations on the main concourse ceiling. It is 1928, and twenty-five-year-old Clara is teaching at the lauded Grand Central School of Art. A talented illustrator, she has dreams of creating cover art for Vogue, but not even the prestige of the school can override the public's disdain for a "woman artist." Brash, fiery, confident, and single-minded–even while juggling the affections of two men, a wealthy would-be poet and a brilliant experimental painter–Clara is determined to achieve every creative success. But she and her bohemian friends have no idea that they'll soon be blindsided by the looming Great Depression, an insatiable monster with the power to destroy the entire art scene. And even poverty and hunger will do little to prepare Clara for the greater tragedy yet to come.
Nearly fifty years later, in 1974, the terminal has declined almost as sharply as Virginia Clay's life. Full of grime and danger, from the smoke-blackened ceiling to the pickpockets and drug dealers who roam the floor, Grand Central is at the center of a fierce lawsuit: Is the once-grand building a landmark to be preserved, or a cancer to be demolished? For Virginia, it is simply her last resort. Recently divorced, she has just accepted a job in the information booth in order to support herself and her college-age daughter, Ruby. But when Virginia stumbles upon an abandoned art school within the terminal and discovers a striking watercolor hidden under the dust, her eyes are opened to the elegance beneath the decay. She embarks on a quest to find the artist of the unsigned masterpiece–an impassioned chase that draws Virginia not only into the battle to save Grand Central but deep into the mystery of Clara Darden, the famed 1920s illustrator who disappeared from history in 1931.