At the Carrollwood Cultural Center, there is a special group of people. Volunteers assist with class registration, special events, the Center's official newsletter,   Centerpieces, and daily operations. Students also help on occasion in exchange for school community service credit. We appreciate these special people and their willingness to help spread the magic.
Thank you to our volunteers!

2008 Volunteer Hours Logged = 1,532
2009 Volunteer Hours Logged = 3,336
2010 Volunteer Hours Logged = 3,750
2011 Volunteer Hours Logged = 2,900
2012 Volunteer Hours Logged = 6,042
If you are interested in joining the Center's Volunteer Program, please email Ruth Levy at  ruth@carrollwoodcenter.org
---
2012 Volunteer of the Year!
Rev. Marti Mattner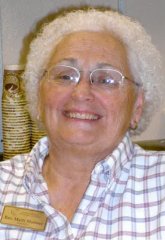 While the student volunteers build rapport with the campers, there is an adult volunteer who stands out as well…the Reverend Marti Mattner, the stalwart of the check-in desk. For the past three years, she has dedicated her summer to the Center's summer camps. She knows every child's name, is quick to interject her counseling skills to help resolve disagreements or disputes, and has the hawk-eyes that parents appreciate as she supervises the flow of children entering and leaving. "For 10 weeks, 8 hours a day, Reverend Marti's commitment has proved paramount to the efficiency of the summer program," commented Helen Michaelson, Educational Outreach Director. "We are grateful to be able to count on her for this critical role."
Rev. Marti, a retired minister, also volunteers at the Center and elsewhere during the rest of the year. She dedicates about five days a week to volunteer efforts. She makes the commitment to summers at the Center because of her desire to serve, her love of the arts and her love for children. "It is a great way to combine all three," she comments. "And more specifically, I want to see kids learn more about the arts and love the arts too. I feel privileged to be able to do this; it is such a joy for me."
It is fair to say the privilege and joy are ours to have these special volunteers. (By Kendra Langlie, Centerpieces writer)
---
Volunteer of the Quarter!
Terry LaRosa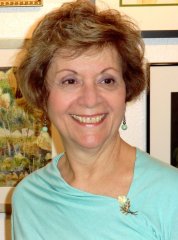 Her email name is mamalarosa. Terry got the name when she worked in the MIS Department at Tallahassee Memorial Healthcare.  "At the time I was the Executive Secretary for the department, and everyone came to me with their problems—work related or not. Someone started calling me Mama LaRosa, and it just stuck."
This is typical. People like and trust Terry LaRosa. She is a woman who gets things done. "I am the consummate volunteer," she says. "I have a hard time keeping my hand down when volunteers are requested." Terry was involved with the Center before it was theCarrollwood Cultural Center. She and her husband Frank served on the original planning committee.
Now, Terry is a member of the Programs/Marketing and Art committees. She does whatever is needed. You can find her at the monthly "Jazz with Jim" concerts behind the refreshment counter, selling her delicious home-baked desserts and donating the proceeds to the Center. She often ushers at events. Terry has also enjoyed several art classes, but has come to the conclusion that "I will never be another Grandma Moses."
Terry's most memorable experience at the Center was in those first planning meetings, when she met  Mary Ann Scialdo, the Center's late Artistic Director. "Meeting Mary Ann changed my life in so many positive ways. She encouraged me to try things I never thought I was capable of doing. She talked me into joining the chorus. I told her I couldn't sing. She asked if I had a song in my heart, and, if I did, then I could sing!"
The rest, as they say, is history. In addition to singing in the chorus, Terry has performed in Oliver!, The Music Man and Come Blow Your Horn.
"I would spend as much time as possible with this extremely talented person. Mary Ann had so much knowledge of all areas of the arts and had a life one could only dream about. The best part of it all was that she was willing to share all her knowledge, experiences and talent with us.
"As a personal friend of Mary Ann, I—and all of us at the CCC who knew her—were so blessed to have her come into our lives. I know that I will never again have the privilege of meeting another Mary Ann."
Born and raised in Brooklyn, New York, Terry grew up living in the same house with grandparents and parents. "I was one of four children, and there were always numerous cousins, aunts and uncles around, most of them named Joseph or Frank," she notes. She has a New York story about another fellow named Dick:
"I love to dance and as a teenager appeared on American Bandstand. Not the dancing show from Philly, but when Dick Clark was at the Little Theatre in NY. He sat down right next to me, which really angered my girlfriend who had to give up her seat to Dick. And, by the way, she was the one who got the tickets…I was her guest!"
Terry was the first one in her family to move out of New York. Her husband Frank's work as an architect and city planner took the family to Saudi Arabia. "Having lived overseas and traveled the world, my education is far beyond book learning."
Returning to the states, the family moved to Tampa in 1984 and three years later to Tallahassee, where Frank completed his Ph.D. In 2003,Frank and Terry moved back toTampa to be near their family. The couple love to travel, and try to do one overseas trip and one trip in the U.S. each year.
"I have a great love of food and of cooking. One of the best features of traveling is experiencing the cuisine of each country. We are adventurous in our sampling of foods. Over the years I have collected recipes and most of them are stuck in boxes under my bed. Cooking is a form of relaxation for me, and part of being an Italian mother is to feed your family and friends—over and over again.
"My son often tells me that I should open a restaurant," she adds with a smile. "Maybe in my next life I will be a great chef."
Terry and Frank have two children: daughter Traci, who lives in upstate New York with her husband and two children, and son Michael, who lives with his wife and two children in nearby St. Petersburg. "Needless to say, our four grandchildren are the light of our lives."
Terry has other volunteer commitments besides the Center. She and Frank are both poll workers. "I have assisted in elections over the last five years and am preparing to be part of the elections coming up this year." She also belongs to The Carrollwood Service League. "It's an organization which participates in such things as gathering school supplies for schools and gathering and distributing food and clothing to immigrant workers in Plant City. I just finished a charity fashion show (I was one of the models) to benefit Joshua House."
Nevertheless, Terry considers the Center home. "The Carrollwood Cultural Center has become a big part of my life. The friends I have made at the Center have become an extended family to me."
She's a big part of the Center's family too. Terry, the Center is so fortunate to have found you. (By Judith Schiavo, Centerpieces writer)
---
2012 Volunteer of the Year: Rev. Marti Mattner

Quarter I: Carol Brill
Quarter II: Bob Kerns
Quarter III: Rev. Marti Mattner
Quarter IV: Terry LaRosa
 Thank you to ALL of our volunteers!