At the Carrollwood Cultural Center, there is a special group of people. Volunteers assist with class registration, special events, the Center's official newsletter,   Centerpieces, and daily operations. Students also help on occasion in exchange for school community service credit. We appreciate these special people and their willingness to help spread the magic.
Thank you to our volunteers!

2008 Volunteer Hours Logged = 1,532
2009 Volunteer Hours Logged = 3,336
2010 Volunteer Hours Logged = 3,750
2011 Volunteer Hours Logged = 2,900
2012 Volunteer Hours Logged = 6,042
If you are interested in joining the Center's Volunteer Program, please email Ruth Levy at  ruth@carrollwoodcenter.org
---
Volunteer of the Quarter!
Norma Stemm
Norma Stemm and her husband Bob have owned a home in Carrollwood for 23 years. They've lived here full time for about 13 years, since he retired. Norma grew up in a small town in Alabama—somehow avoiding acquiring a Southern accent in the process– and lived in Michigan after her marriage. She says that she hated the cold weather for 40 years. "In the winter, I became a recluse."
You could hardly call her a recluse now. She was one of the first volunteers at the Center and likes to work in the front desk, where she can meet people. She is the Box office guru and has become known the membership master.
Norma's interests and her children's overlap, although she had no opinion on which came first. For example, Norma's favorite arts activity is musical theatre. She has helped direct, done costumes and makeup. Unlike her daughter, Norma's never been on stage and has no desire to do so. "I like working with everyone," she says. She's a resourceful person that people turn to when they need help with problems.
If you ever need anything or any help just stop by the box office and any weekend and see Norma.  She will help with anything.  The word "NO" is not in her vocabulary.
---
2012 Volunteer of the Year!
Rev. Marti Mattner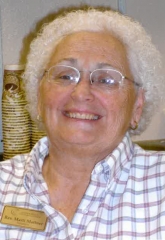 While the student volunteers build rapport with the campers, there is an adult volunteer who stands out as well…the Reverend Marti Mattner, the stalwart of the check-in desk. For the past three years, she has dedicated her summer to the Center's summer camps. She knows every child's name, is quick to interject her counseling skills to help resolve disagreements or disputes, and has the hawk-eyes that parents appreciate as she supervises the flow of children entering and leaving. "For 10 weeks, 8 hours a day, Reverend Marti's commitment has proved paramount to the efficiency of the summer program," commented Helen Michaelson, Educational Outreach Director. "We are grateful to be able to count on her for this critical role."
Rev. Marti, a retired minister, also volunteers at the Center and elsewhere during the rest of the year. She dedicates about five days a week to volunteer efforts. She makes the commitment to summers at the Center because of her desire to serve, her love of the arts and her love for children. "It is a great way to combine all three," she comments. "And more specifically, I want to see kids learn more about the arts and love the arts too. I feel privileged to be able to do this; it is such a joy for me."
It is fair to say the privilege and joy are ours to have these special volunteers. (By Kendra Langlie, Centerpieces writer)
---
2013 Volunteer of the Year: TBA
Quarter II: Ellia Swiliak
Quarter III: Norma Stemm
Quarter IV: TBA

2012 Volunteer of the Year: Rev. Marti Mattner

Quarter I: Carol Brill
Quarter II: Bob Kerns
Quarter III: Rev. Marti Mattner
Quarter IV: Terry LaRosa
 Thank you to ALL of our volunteers!