Square One Art by Shyama
January 2015
Official Art Opening & Reception: Sat., January 24 • 2-5 pm (Join us for a wonderful art reception featuring Shyama and her students as well as the Pandit Jasraj School of Music Foundation.)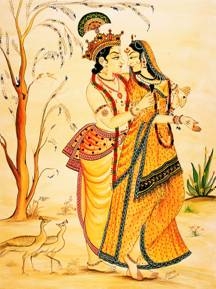 Shyama Rangwala was born in Mumbai, India 1977 and moved to Tampa after her marriage in 2002. Her creative interest in Arts was born in her early childhood when, at the age of five, she was diagnosed with localized scleroderma. After graduating in school she received her degree in art from the Raheja School of Arts in Bombay.
She has successfully participated in approximately 35 solo and group exhibitions in India and USA. Collectors of her art work include the Vice President of India, Governor of Andhra Pradesh, film stars, priests of many Temples in India, and many renowned artists. She is a member of the Brandon League of Fine Art, TRA Hyde Park Art Gallery, Miniature Arts Society of Florida, Florida Craftsmen, and VSA Arts of Florida.
She conducts workshops and classes from her home studio and gallery in Tampa, cross creek and Pinellas Park. She also does commission work. She does small miniatures as well as big murals. Besides art, she also teaches two Indian languages – Gujarati and Hindi (National language of India). Shyama hopes to encourage others with disabilities by offering demonstrations and providing art classes to them.
Shyama works mainly with acrylics on canvas, watercolor on fine art paper, but occasionally does collage, calligraphy, fabric painting, Henna art, and painting traditional designs on wood, pots and stone. She is a devotee of Krishna a Hindu God, who is featured in many of her paintings. Her colors are bright and vibrant. When you look at her paintings just don't see them, but feel them. Try to understand the meaning behind each painting.
You may view her artwork on her website: www.shyamshyama.com. (Click on the thumbnails below for a sample of Shyama's work.)
---
The Space Between by Mark Gonzalez
February 2015
Official Art Opening & Reception: Fri., February 6 • 5:30-8:30 pm
Don't miss this multi-media, kinetic art exposition featuring original , canvas, glass and chrome works by native Carrollwood artist Mark Gonzalez.
Artist Statement

"Create Every Day!   Art from the heart and soul can be seen and felt across the spirit of our universe: Beyond all boundaries of borders and time.  I hope the function and flow of my work provide you soul soothing happiness and light through my shared vision."
Mark Gonzalez is a sixth generation native Floridian artist.  He was born in Tampa, FL.
Gonzalez was educated at University of Florida + University of South Florida.
A lifelong love for photography has led Mark to the current mixed media style of art he has developed;  combining elements of photography with digitization; sketch, clip art, fractal geometry, collage and print to produce Gonzalez' signature style.
After 25 years as an executive in the music and advertising industries, Gonzalez reached a mid-life crossroad where he felt it vital to re-evaluate his future dreams & goals.
While visiting the Guggenheim Museum in Bilbao Spain in 2007, Mark made the commitment to follow his love and passion for photography and art; taking it to a new level as an artist.
Mark then commenced this journey, uploading thousands of favorite photographs taken throughout his life.
He then began teaching himself the art of digitization. These digitized photos created have become pieces of the multi-layered, inner dimensional, surrealistic puzzles that are the work of Mark Gonzalez.
Gonzalez' art is defined within a complex interplay of explosive colors, kaleidoscopic psychedelic imagery & dense atmospheric textures converging into a visual experience deep in a deluge of exaggerated, redefined field of depth:  Where images dissolve & morph as they navigate, combine & define universal patterns of the day.
His work is created in the ambiance of PhotoMorphs Studio in Tampa, FL where it is showered in over 50 multi-colored LED lights, fueling the animation & life of Mark Gonzalez' unique work.
Gonzalez is an active member of the Tampa Bay Art Community through his work with WMNF 88.5, Ybor Art Association, West Tampa Art Association, as he has been doing shows throughout the Bay Area since 2009. 51 pieces of his work were on display in the VIP Lounge of the world renowned Mahaffey Theater in St. Petersburg throughout 2013.
Gonzalez just completed a successful 2 week solo show;  "Navigating the Kaleidoscope" at USF Centre Gallery which featured 62 pieces of his work.
Gonzalez strives to give viewers a compelling, striking, unexpected perspective of daily views; attempting to share the sense of a child seeing and perceiving a sight of new reality outside themselves for the first time.
CLICK HERE to read an article published September 2014 about another exhibit by Mark Gonzalez titled, Navigating the Kaleidoscope, that appeared in USF's Centre Gallery.
---
Radiant Fruit
March-April
Official Art Opening & Reception: Fri., March 6 • 5-7 pm
Radiant Fruit is a colorful exhibit of fruit-inspired painting, photography, drawings and more completed by local artists.
---
To Be Announced
April
Official Art Opening & Reception: Fri., April 3 • 5-7 pm
Information coming soon.
---
North Tampa Arts League
May
Official Art Opening & Reception: Fri., May 8 • 5-7 pm
Information coming soon.
---
VSA
June-July
Official Art Opening & Reception: Fri., June 5 • 5-7 pm
---
To Be Announced
August
Official Art Opening  & Reception: Fri., August 7 • 5-7 pm
---
Student/Faculty Art Show
September
Official Art Opening & Reception: Fri., September 4 • 5-7 pm
---
Feather Princesses Quilts
October
Official Art Opening & Reception: Fri., October 2 • 5-7 pm
---
Star Spangled Veterans Show
November-December
Official Art Opening & Reception: Fri., November 6 • 5-7 pm