BIDDING OPEN NOW through DECEMBER 10 at 6 PM
A Carrollwood Cultural Center holiday tradition!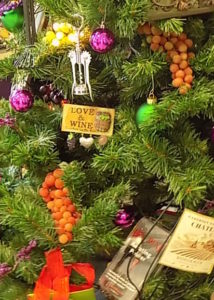 The Center is proud to once again display — and auction — more than a dozen beautifully decorated trees this holiday season.
Thanks to the volunteers who donated trees, decorations, and time to make our lobby look AMAZING. A special thanks to Lugina Jason, Norma Stemm, Cheley Buff, Denise Deneen, Nancy Stearns, Georgeann Simon, Mary Jo McCallie, Deborah Elliott, Barbara Willey, Paul Berg & Adrienne Hutelmyer, Beth LaBaren-Root, and Ruth Levy.
Money raised from this annual event will go to the Center's Tom Jones Tuition Assistance Fund. This fund was established to assure that the arts remain accessible to all individuals within the community regardless of their ability to pay. Adults and children from low income families are able to attend classes or Summer Camps thanks, in part, to the generous donations made to this fund.
2017 Themes
"All Dolled Up" sponsored by Norma Stemm
"Angel Chorus" sponsored by Mary Jo McCallie
"Feathers" sponsored by Nancy Stearns
"Feel Spa-tacular!" sponsored by Denise Deneen
"Florida State University" sponsored by Cheley Buff
"Frosty & Friends" sponsored by Barbara Willey
"That's a Wrap" sponsored by Paul Berg & Adrienne Hutelmyer
"Grape of Wrath" sponsored by Cheley Buff
"Joyeux Noel" sponsored by Deborah Elliott
"Nutcrackers" sponsored by Beth LeBaren-Root
"Ombre Reds" sponsored by Nancy Stearns & FCCC Board of Directors
"Santa Claus" sponsored by Carrollwood Cultural Center
"Teddy Bear Pals" sponsored by Norma Stemm
Also included in this year's auction:
"Fairy Garden #1" sponsored by Norma Stemm
"Fairy Garden #2" sponsored by Norma Stemm