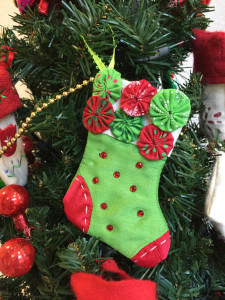 A Carrollwood Cultural Center holiday tradition!
The Center was proud to display — and auction — more than a dozen beautifully decorated trees during the holiday season.
Thanks to the volunteers who donated trees, decorations, and time to make our trees look AMAZING. A special thanks to Denise Deneen, Nancy Stearns, Norma Stemm, Georgeann Simon, Lugina Jason, Ruth Levy and LifePath Hospice (Gunn Hwy) for donating trees and sprinkling additional "goodies" to help decorate them.
Thank you to all who bid on the trees. The trees raised $2,050 for the Center! Thank you!
2016 Themes
"Traditional Christmas" sponsored by the Carrollwood Cultural Center
"Dogs" sponsored by Denise Deneen
"Barbies" sponsored by Ruth Levy
"Big Bear & Stockings" sponsored by LifePath Hospice (Gunn Hwy)
"The Simpsons" sponsored by Denise Deneen
"Housewares" sponsored by the Carrollwood Cultural Center
"Baby" sponsored by Norma Stemm & Georgeann Simon
"Little Boys" sponsored by Norma Stemm & Georgeann Simon
"Little Girls" sponsored by Norma Stemm & Georgeann Simon
"Ribbons & Bows" sponsored by Paul & Adrienne Berg
"The Peanuts" sponsored by Denise Deneen
"Vintage Dolls" sponsored by Denise Deneen
"Culture" assembled by Diane Leeper and sponsored by the Carrollwood Cultural Center Board of Directors
"Winter Village" sponsored by Denise Deneen
"Dollhouse" sponsored by Nancy Stearns