Support your friends and family when they perform at the Center! Our community theatre features performances by  Broadway Bound, MAS Community Theatre and more!
---
THE WIZARD OF OZ: Young Performers' Edition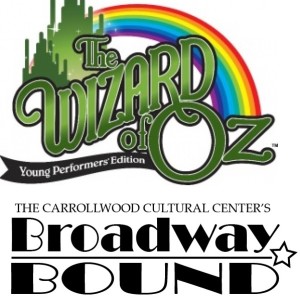 By L. Frank Baum
Music and Lyrics by Harold Arlen and E.Y. Harburg
Background Music by Herbert Stothart
Dance and Vocal Arrangements by Peter Howard
Orchestration by Larry Wilcox
Adapted by John Kane for the Royal Shakespeare Company
Based upon the Classical Motion Picture owned by Turner Entertainment Co. and distributed in all media by Warner Bros.
Presented by Broadway Bound
Saturday, May 30 • 7:30 pm
Sunday, May 31 • 2pm
Like so many girls her age, little Dorothy Gale of Kansas dreams of what lies over the rainbow. One day a twister hits her farm and carries her away over the rainbow to another world. Come join Dorothy, the Scarecrow, the Tin Man, the Cowardly Lion and Toto as they travel the universe of Dorothy's imagination.
---
ALL SHOOK UP
Presented by Carrollwood Cultural Center's MAS Community Theatre.
Directed by: Aaron Washington
Inspired by and featuring the songs of ELVIS PRESLEY®
Book by JOE DIPIETRO
Originally Produced on Broadway by Jonathan Pollard, Bernie Kukoff, Clear Channel Entertainment, Harbor Entertainment, Miramax Films, Bob & Harvey Weinstein,  Stanley Buchthal, Eric Falkenstein, Nina Essman/Nancy Nagel Gibbs, Jean Cheever, Margaret Cotter, in association with Barney Rosenzweig, Meri Krassner, FGRW Investments, Karen Jason, Phil Ciasullo Conard.  Originally produced for Goodspeed Musicals, Michael P. Price, Executive Producer, Sue Frost, Associate Producer.
Show Overview:
All Shook Up is inspired by and featuring the songs of Elvis Presley. It's 1955, and into a square little town in a square little state rides a guitar-playing roustabout who changes everything and everyone he meets in this hip-swiveling, lip-curling musical fantasy that'll have you jumpin' out of your blue suede shoes with such classics as "Heartbreak Hotel," "Jailhouse Rock," and "Don't Be Cruel."
Performance Dates: