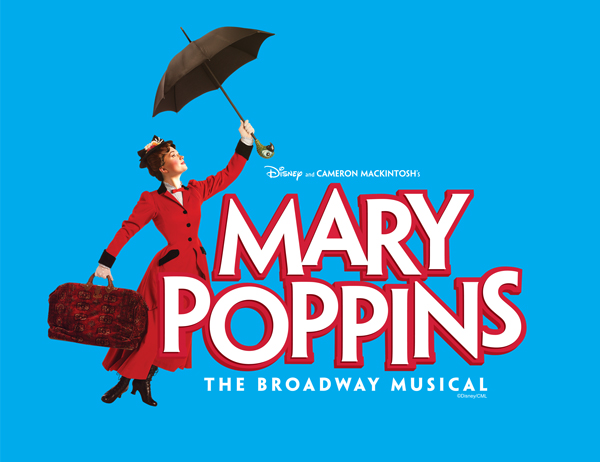 A Musical based on the stories of P.L. Travers
and the Walt Disney Film
Original Music and Lyrics by
Richard M. Sherman and Robert B. Sherman
Book by
Julian Fellowes
New Songs and Additional Music and Lyrics by
George Stiles and Anthony Drewe
Co-Created by
Cameron Mackintosh
Director / Choreographer: Aaron Washington
Musical Director: Mary Jo Hahn
Audition Dates:
Sunday, November 15 / 4-6 pm Youth Audition Only (for the roles of Michael and Jane) NOTE: If you cannot attend, you are allowed to attend the general auditions.
Sunday, November 15 / 6 – 8 pm General Audition
Monday, November 16 / 6 – 8 pm General Audition
Tuesday, November 17 / 6 – 8 pm General Audition
Thursday, November 18/ 6 – 8 pm Callbacks
Performances will be March 19-28, 2021.
About the Show
Mary Poppins is a musical based on the stories of P.L. Travers and the Walt Disney film with original music and lyrics by Richard M.Sherman and Robert B. Sherman and book by Julian Fellowes with new songs and additional music and lyrics by George Stiles and Anthony Drewe.
Join Bert, a jack-of-all-trades, as he introduces you to England in 1910 and the troubled Banks family. Young Jane and Michael have sent many a nanny packing before Mary Poppins arrives on their doorstep. Using a combination of magic and common sense, she must teach the family how to value each other again. Classic songs such as "Chim Chim Cher-ee", "A Spoonful of Sugar" and "Supercalifragilisticexpialidocious" will take you and your family on a magical adventure through rainy London, England!
Audition Requirements
MAS Theatre is looking for a dynamic and versatile cast to bring this story to life. Please prepare a song of the musical theatre genre that showcases your voice. You may also participate in a short dance combination. Readings from the script will take place at Callbacks.
Please bring a headshot.
All roles are available and non-paid
Age ranges are suggested in the character descriptions below
Characters
ADMIRAL BOOM- The Banks' friendly neighbor on Cherry Tree Lane, Admiral Boom's house is shaped like a great ship. 50s, Baritone.
BERT – Bert is a One-Man-Band, a Sidewalk Artist, a Chimney Sweep and a Kite Salesman, but above all, he is a friend to Mary Poppins and Jane and Michael. Mid 30s. Baritone to G. Role will be doing aerial work.
KATIE NANNA The last in a long line of nannies for the Banks children, Katie Nanna can't stand any more of Jane and Michael's pranks and leaves No. 17 Cherry Tree Lane.
MARY POPPINS Jane and Michael's new Nanny, Mary Poppins is a dazzling personality and a force to be reckoned with. Full of hope even when things look bleak, she tells them "anything can happen if you let it." Mid 20s. Mezzo Soprano with a strong top. Role will be flying.
MICHAEL & JANE The Banks children, Jane and Michael misbehave to get attention from their parents. 9-11 years old.
MISS ANDREW When Mary Poppins disappears, Mrs. Banks calls on Mrs. Andrew, George Banks' old nanny. She soon finds that Miss Andrew is cruel and demanding. 40s-50s, Soprano with Alto Belt. Role may be potentially doing harness work.
MISS LARK Another neighbor on Cherry Tree Lane, she is a bit snobby and treats her dog, Willoughby, as a child. 30s, Mezzo Soprano.
GEORGE BANKS A bank manager, Mr. Banks is father to Jane and Michael. He tries to be a good provider, but often forgets how to be a good father. Early 40s, Baritone.
MRS. BRILL The Banks' cook, she rules the kitchen at No. 17 Cherry Tree Lane. Mid 50s, Alto.
MRS. CORRY Mysterious and very old, Mrs. Corry runs the "Talking Shop" where people buy conversations and gingerbread. She knew George Banks when he was just a boy. Soprano.
MRS. WINIFRED BANKS A former actress, Mrs. Banks is very busy trying to live up to her husband's expectations. She is a loving, but distracted mother to Jane and Michael. Mid 30s, Mezzo Soprano.
NELEUS A statue in the Park, Neleus has lost his father, Poseidon, god of the ocean. 20s, Tenor.
ROBERTSON AY Clumsy but good-hearted, the Banks' bootman has trouble following instructions. Early 20s, Tenor.
THE BIRD WOMAN She sits in front of St.Paul's Cathedral every day, selling bags of crumbs for the pigeons. 50s, Alto.
THE PARK KEEPER A stickler for rules and regulations, the Park Keeper watches over the park. 40s-50s, Tenor.
ENSEMBLE All ethnicities to help create the magical musical. All must be vocalists and able to move. All ranges 16- 60.
Disney and Cameron Mackintosh's Mary Poppins is presented through special arrangement with Music Theatre International (MTI). All authorized performance materials are also supplied by MTI. www.MTIShows.com
http://www.carrollwoodcenter.org/wp-content/uploads/2018/01/Carrollwood-Logo.png
0
0
Rob
http://www.carrollwoodcenter.org/wp-content/uploads/2018/01/Carrollwood-Logo.png
Rob
2020-01-28 14:46:40
2020-03-27 17:23:48
AUDITIONS: Mary Poppins