Have you always wanted to play a band instrument? Maybe you played in high school or college, but you're a little rusty? The New Horizons Band —an educational-based program for adults— might be the place for you!
"…a growing body of research suggests that playing an instrument or singing in a choir can enhance emotional well-being, brain health, cognition and hearing function."

READ MORE from The Wall Street Journal, April 23, 2017
Here are some samples from a recent performance:
About New Horizons Music Programs

New Horizons Music programs provide entry points to music making for adults, including those with no musical experience at all and also those who were active in school music programs but have been inactive for a long period. Many adults would like an opportunity to learn music in a group setting similar to that offered in schools, but the last entry point in most cases was elementary school. We know that for most of the last century, about 15-20 percent of high school students nationally participated in music. From that, we can estimate that at least 80 percent of the adult population needs beginning instruction in order to participate in making music. New Horizons Music programs serve that need.

The first New Horizons program at the Eastman School of Music in Rochester, New York was designed to serve the senior population. A minimum age of 50 was arbitrarily set as a guideline, since that is the age of eligibility for joining the American Association of Retired Persons (AARP), one of the first official markers of senior adulthood. Many New Horizons programs started since then are designed specifically for senior adults and have minimum age requirements, but others are open to adults of any age. The policy of one of the New Horizons programs is "If you consider yourself to be an adult, you're eligible." The targeted age range and requirements, if any, are local decisions.

A New Horizons Music program should be inclusive rather than exclusive. Every person has musical potential that can be developed to a level that will be personally rewarding. Many adults have been made to feel unmusical, often by parents or music teachers. It is common at New Horizons informational meetings to hear people say things like "My parents said 'No one in this family has musical talent, so you're not going to start music classes.'" Or, "My music teacher said 'Move your lips, but don't make any sound.'" Those scars last a lifetime, and the people who carry such memories will need assurance.

The first New Horizons program in 1991 was a band, but the intent was to also start other kinds of New Horizons programs. New Horizons orchestras started a few years later. The concept and philosophy of New Horizons Music can be applied to many other types of music making and music classes. (source: The New Horizons International Music Association)
The New Horizons Band at Carrollwood Cultural Center has been honored to have Dr. Ernest occasionally join them for class, rehearsals and performances. The band has performed at the Carrollwood Cultural Center, James A. Haley Veterans' Hospital, Rocky Creek Village and more.
To join or request the New Horizons Band for your community event, email info@carrollwoodcenter.org.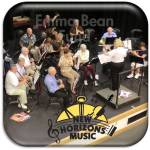 If you would like to make a donation to support this group click here.