The Carrollwood Community Chorus is open to anyone, regardless of experience, as long as you have a song in your heart. From the camp fire to the Red Carpet, members from all walks of life come together to share their gift and love of song. The chorus performs regularly at the Center, local events and has even been known to "pop up" in crowds around the holidays. The group meets weekly to rehearse; however, this group of friendly folk are known to keep in touch outside of rehearsals, too! Now that's something to sing about!
For more information, or to join, contact Band Director Mary Jo Hahn at maryjo@carrollwoodcenter.org.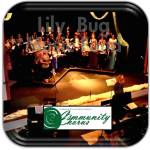 CLICK HERE to make a donation to support this group at the Center. The Lily Bug Music was established by Mr. & Mrs. Bob Kerns in 2011 and helps with expenses such as: sheet music, guest artists and accompanist specifically for the chorus.