The CCC Book Club is friendly, informal and open to all. At club meetings, the group explores a wide variety of books and interests — fiction and non-fiction, male and female authors, selections old and new. The reading list is determined by a democratic process in which members of the club promote a book of their choosing for addition to the list.
Meeting Times
See below for scheduled meetings. Meetings start at 7pm. (Please visit the Calendar for up-to-date schedule changes.)
More Info
For more info, please contact the group facilitator, David Brayshaw, at david8463@verizon.net.
Meetings & Book Selections for 2017
---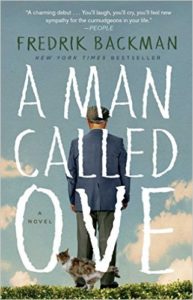 January 23 • A Man Called Ove by Fredrik Backman
Facilitator: Ralph Fortson
Meet Ove. He's a curmudgeon—the kind of man who points at people he dislikes as if they were burglars caught outside his bedroom window. He has staunch principles, strict routines, and a short fuse. People call him "the bitter neighbor from hell." But must Ove be bitter just because he doesn't walk around with a smile plastered to his face all the time?
Behind the cranky exterior there is a story and a sadness. So when one November morning a chatty young couple with two chatty young daughters move in next door and accidentally flatten Ove's mailbox, it is the lead-in to a comical and heartwarming tale of unkempt cats, unexpected friendship, and the ancient art of backing up a U-Haul. All of which will change one cranky old man and a local residents' association to their very foundations.
A feel-good story in the spirit of The Unlikely Pilgrimage of Harold Fry and Major Pettigrew's Last Stand, Fredrik Backman's novel about the angry old man next door is a thoughtful exploration of the profound impact one life has on countless others. "If there was an award for 'Most Charming Book of the Year,' this first novel by a Swedish blogger-turned-overnight-sensation would win hands down"
---
February 27 • Other Voices, Other Rooms by Truman Capote
Facilitator: David Brayshaw
When Joel Knox's mother dies, he is sent into the exotic unknown of the Deep South to live with a father he has never seen. But once he gets there, everyone is curiously evasive when Joel asks to see his father. Truman Capote's first novel, Other Voices, Other Rooms is a brilliant, searching study of homosexuality set in a shimmering landscape of heat, mystery and decadence.
---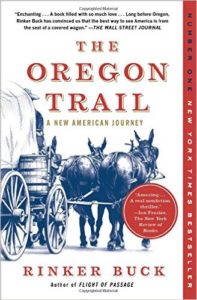 March 27 • The Oregon Trail by Rinker Buck
Facilitator: Jean Kerns
A major bestseller that has been hailed as a "quintessential American story" (Christian Science Monitor), Rinker Buck's The Oregon Trail is an epic account of traveling the 2,000-mile length of the Oregon Trail the old-fashioned way—in a covered wagon with a team of mules—that has captivated readers, critics, and booksellers from coast to coast. Simultaneously a majestic journey across the West, a significant work of history, and a moving personal saga, Buck's chronicle is a "laugh-out-loud masterpiece" (Willamette Week) that "so ensnares the emotions it becomes a tear-jerker at its close" (Star Tribune, Minneapolis) and "will leave you daydreaming and hungry to see this land"
---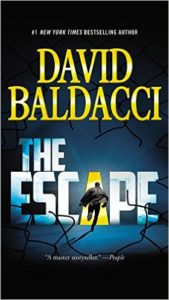 April 24 • The Escape by David Baldacci
Facilitator: Patti Karr
David Baldacci is one of the world's most popular, widely read storytellers. In his blockbuster thrillers Zero Day and The Forgotten, he enthralled readers with John Puller. A combat veteran and special agent with the U.S. Army, Puller is the man they call to investigate the toughest crimes facing the nation. But all his training, all his experience, all his skills will not prepare him for his newest case, one that will force him to hunt down the most formidable and brilliant prey he has ever tracked: his own brother.
The prison is unlike any other. Military discipline rules. Its security systems are unmatched. None of its prisoners dream of escaping. They know it's impossible . . . until now.
John Puller's older brother, Robert, was convicted of treason and national security crimes. His inexplicable escape from prison makes him the most wanted criminal in the country. Some in the government believe that John Puller represents their best chance at capturing Robert alive, and so Puller must bring in his brother to face justice.
But Puller quickly discovers that his brother is pursued by others who don't want him to survive. Puller is in turn pushed into an uneasy, fraught partnership with another agent, who may have an agenda of her own.
They dig more deeply into the case together, and Puller finds that not only are her allegiances unclear, but there are troubling details about his brother's conviction . . . and someone out there doesn't want the truth to ever come to light. As the nationwide manhunt for Robert grows more urgent, Puller's masterful skills as an investigator and strengths as a fighter may not be enough to save his brother-or himself.
---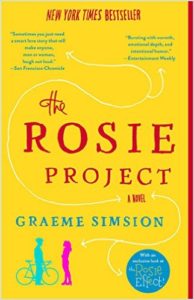 May 22 • Rosie Project by Graeme Simsion
Facilitator: Kathy Smith
Now in paperback, the international bestselling romantic comedy "bursting with warmth, emotional depth, and…humor," (Entertainment Weekly) featuring the oddly charming, socially challenged genetics professor, Don, as he seeks true love.
The art of love is never a science: Meet Don Tillman, a brilliant yet socially inept professor of genetics, who's decided it's time he found a wife. In the orderly, evidence-based manner with which Don approaches all things, he designs the Wife Project to find his perfect partner: a sixteen-page, scientifically valid survey to filter out the drinkers, the smokers, the late arrivers.
Rosie Jarman possesses all these qualities. Don easily disqualifies her as a candidate for The Wife Project (even if she is "quite intelligent for a barmaid"). But Don is intrigued by Rosie's own quest to identify her biological father. When an unlikely relationship develops as they collaborate on The Father Project, Don is forced to confront the spontaneous whirlwind that is Rosie―and the realization that, despite your best scientific efforts, you don't find love, it finds you.
Arrestingly endearing and entirely unconventional, Graeme Simsion's distinctive debut "navigates the choppy waters of adult relationships, both romantic and platonic, with a fresh take (USA TODAY). "Filled with humor and plenty of heart, The Rosie Project is a delightful reminder that all of us, no matter how we're wired, just want to fit in" (Chicago Tribune).
---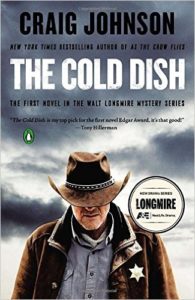 June 26 • The Cold Dish by Craig Johnson
Facilitator: Gilbert "Joe" Joseph
Fans of Ace Atkins, Nevada Barr and Robert B. Parker will love this outstanding first novel, in which New York Times bestselling author Craig Johnson introduces Sheriff Walt Longmire of Wyoming's Absaroka County. Johnson draws on his deep attachment to the American West to produce a literary mystery of stunning authenticity, and full of memorable characters. After twenty-five years as sheriff of Absaroka County, Walt Longmire's hopes of finishing out his tenure in peace are dashed when Cody Pritchard is found dead near the Northern Cheyenne Reservation. Two years earlier, Cody has been one of four high school boys given suspended sentences for raping a local Cheyenne girl. Somebody, it would seem, is seeking vengeance, and Longmire might be the only thing standing between the three remaining boys and a Sharps .45-70 rifle.
With lifelong friend Henry Standing Bear, Deputy Victoria Moretti, and a cast of characters both tragic and humorous enough to fill in the vast emptiness of the high plains, Walt Longmire attempts to see that revenge, a dish best served cold, is never served at all.
---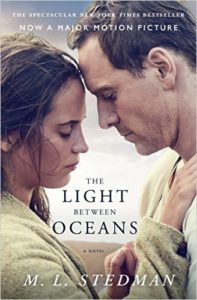 July 24 • The Light Between Oceans by M.L. Stedman
Facilitator: Jean Kerns
The years-long New York Times bestseller and Goodreads Best Historical Novel that is "irresistible…seductive…with a high concept plot that keeps you riveted from the first page" (O, The Oprah Magazine)—soon to be a major motion picture from Spielberg's Dreamworks starring Michael Fassbender, Rachel Weisz, and Alicia Vikander, and directed by Derek Cianfrance.
After four harrowing years on the Western Front, Tom Sherbourne returns to Australia and takes a job as the lighthouse keeper on Janus Rock, nearly half a day's journey from the coast. To this isolated island, where the supply boat comes once a season, Tom brings a young, bold, and loving wife, Isabel. Years later, after two miscarriages and one stillbirth, the grieving Isabel hears a baby's cries on the wind. A boat has washed up onshore carrying a dead man and a living baby.
Tom, who keeps meticulous records and whose moral principles have withstood a horrific war, wants to report the man and infant immediately. But Isabel insists the baby is a "gift from God," and against Tom's judgment, they claim her as their own and name her Lucy. When she is two, Tom and Isabel return to the mainland and are reminded that there are other people in the world. Their choice has devastated one of them.
---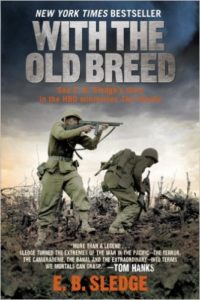 August 28 • With the Old Breed by E.B. Sledge
Facilitator: David Brayshaw
In The Wall Street Journal, Victor Davis Hanson named With the Old Breed one of the top five books on epic twentieth-century battles. Studs Terkel interviewed the author for his definitive oral history, The Good War. Now E. B. Sledge's acclaimed first-person account of fighting at Peleliu and Okinawa returns to thrill, edify, and inspire a new generation.
An Alabama boy steeped in American history and enamored of such heroes as George Washington and Daniel Boone, Eugene B. Sledge became part of the war's famous 1st Marine Division—3rd Battalion, 5th Marines. Even after intense training, he was shocked to be thrown into the battle of Peleliu, where "the world was a nightmare of flashes, explosions, and snapping bullets." By the time Sledge hit the hell of Okinawa, he was a combat vet, still filled with fear but no longer with panic.
Based on notes Sledge secretly kept in a copy of the New Testament, With the Old Breed captures with utter simplicity and searing honesty the experience of a soldier in the fierce Pacific Theater. Here is what saved, threatened, and changed his life. Here, too, is the story of how he learned to hate and kill—and came to love—his fellow man.
"In all the literature on the Second World War, there is not a more honest, realistic or moving memoir than Eugene Sledge's. This is the real deal, the real war: unvarnished, brutal, without a shred of sentimentality or false patriotism, a profound primer on what it actually was like to be in that war. It is a classic that will outlive all the armchair generals' safe accounts of—not the 'good war'—but the worst war ever."—Ken Burns
---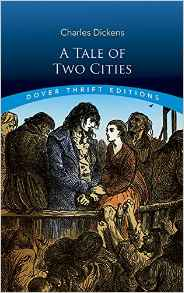 September 25 • A Tale of Two Cities by Charles Dickens
Facilitator: Ginny Klein
A Tale of Two Cities (1859) is a novel by Charles Dickens, set in London and Paris before and during the French Revolution. With well over 200 million copies sold, it ranks among the most famous works in the history of literary fiction. The novel depicts the plight of the French peasantry demoralized by the French aristocracy in the years leading up to the revolution, the corresponding brutality demonstrated by the revolutionaries toward the former aristocrats in the early years of the revolution, and many unflattering social parallels with life in London during the same time period. It follows the lives of several characters through these events. The 45-chapter novel was published in 31 weekly installments in Dickens's new literary periodical titled All the Year Round. From April 1859 to November 1859, Dickens also republished the chapters as eight monthly sections in green covers. All but three of Dickens's previous novels had appeared only as monthly installments. The first weekly installment of A Tale of Two Cities ran in the first issue of All the Year Round on 30 April 1859. The last ran thirty weeks later, on 26 November.
---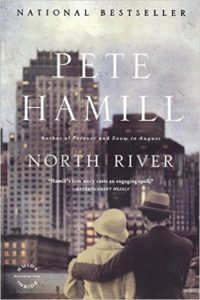 October 23 • North River by Pete Hamill
Facilitator: Susan Rosetti
One snowy New Year's Day, in the midst of the Great Depression, Dr. James Delaney–haunted by the slaughters of the Great War, and abandoned by his wife and daughter–returns home to find his three-year-old grandson on his doorstep, left by his mother in Delaney's care. Coping with this unexpected arrival, Delaney hires Rose, a tough, decent Sicilian woman with a secret in her past. Slowly, as Rose and the boy begin to care for the good doctor, the numbness in Delaney begins to melt. Recreating 1930s New York with the vibrancy and rich detail that are his trademarks, Pete Hamill weaves a story of honor, family, and one man's simple courage that no reader will soon forget
---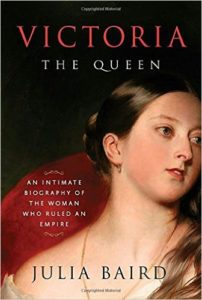 November 27 • Victoria The Queen by Julia Baird
Facilitator: Kathy Smith
When Victoria was born, in 1819, the world was a very different place. Revolution would threaten many of Europe's monarchies in the coming decades. In Britain, a generation of royals had indulged their whims at the public's expense, and republican sentiment was growing. The Industrial Revolution was transforming the landscape, and the British Empire was commanding ever larger tracts of the globe. In a world where women were often powerless, during a century roiling with change, Victoria went on to rule the most powerful country on earth with a decisive hand.
Fifth in line to the throne at the time of her birth, Victoria was an ordinary woman thrust into an extraordinary role. As a girl, she defied her mother's meddling and an adviser's bullying, forging an iron will of her own. As a teenage queen, she eagerly grasped the crown and relished the freedom it brought her. At twenty, she fell passionately in love with Prince Albert of Saxe-Coburg and Gotha, eventually giving birth to nine children. She loved sex and delighted in power. She was outspoken with her ministers, overstepping conventional boundaries and asserting her opinions. After the death of her adored Albert, she began a controversial, intimate relationship with her servant John Brown. She survived eight assassination attempts over the course of her lifetime. And as science, technology, and democracy were dramatically reshaping the world, Victoria was a symbol of steadfastness and security—queen of a quarter of the world's population at the height of the British Empire's reach.
Drawing on sources that include fresh revelations about Victoria's relationship with John Brown, Julia Baird brings vividly to life the fascinating story of a woman who struggled with so many of the things we do today: balancing work and family, raising children, navigating marital strife, losing parents, combating anxiety and self-doubt, finding an identity, searching for meaning.