Meeting Times
See below for 2013 scheduled meetings. Meetings start at 7pm. (Please visit the Calendar for up-to-date schedule changes.)
More Info
Kathy S. Smith:  smithkat@tampabay.rr.com / (813) 416-8453
---
The CCC Book Club is friendly, informal and open to all. At club meetings, the group explores a wide variety of books and interests — fiction and non-fiction, male and female authors, selections old and new. The reading list is determined by a democratic process in which members of the club promote a book of their choosing for addition to the list.
Meetings & Book Selections for 2013
January 28: "Clara and Mr. Tiffany" by Susan Vreeland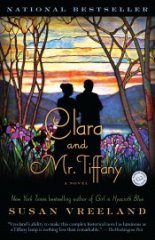 It's 1893, and at the Chicago World's Fair, Louis Comfort Tiffany makes his debut with a luminous exhibition of innovative stained-glass windows that he hopes will earn him a place on the international artistic stage. But behind the scenes in his New York studio is the freethinking Clara Driscoll, head of his women's division, who conceives of and designs nearly all of the iconic leaded-glass lamps for which Tiffany will long be remembered. Never publicly acknowledged, Clara struggles with her desire for artistic recognition and the seemingly insurmountable challenges that she faces as a professional woman. She also yearns for love and companionship, and is devoted in different ways to five men, including Tiffany, who enforces a strict policy: He does not employ married women. Ultimately, Clara must decide what makes her happiest—the professional world of her hands or the personal world of her heart.
(Book Description found on www.amazon.com)
February 25: "A Prisoner of Birth" by Jeffrey Archer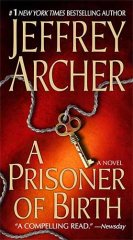 If Danny Cartwright had proposed to Beth Wilson the day before, or the day after, he would not have been arrested and charged with the murder of his best friend. And when the four prosecution witnesses are a barrister, a popular actor, an aristocrat and the youngest partner in an established firm's history, who is going to believe his side of the story?
Danny is sentenced to 22 years and sent to Belmarsh prison, the highest security jail in the land, from where no inmate has ever escaped. But Spencer Craig, Lawrence Davenport, Gerald Payne and Toby Mortimer all underestimate Danny's determination to seek revenge and Beth's relentless quest to win justice, which forces all four protagonists to fight for their lives.
So begins A Prisoner of Birth, Jeffrey Archer's most powerful novel since Kane and Abel, with a cast of characters who will remain with you long after you've turned the last page.
(Book Description from the author's website http://www.jeffreyarcher.co.uk/site/a_prisoner_of_birth)
March 25:"A Land Remembered" by Patrick Smith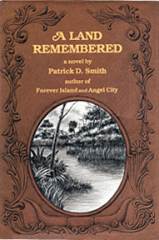 "Tobias MacIvey was thirty years old and had been in the Florida scrub for five years. He had come south out of Georgia in 1858. In his horse-drawn wagon there was a sack of corn and a sack of sweet potatoes, a few packets of seeds, a shotgun and a few shells, a frying pan, several pewter dishes, forks, and a cast-iron pot. There were also the tools he would need to clear the land and build a house: two chopping axes, a broadaxe foot, crosscut saw, auger bit, a fro and drawing knife."
So begins the story of Tobias, his wife Emma and son Zechariah in the Florida wilderness in the mid 19th century. The book is A Land Remembered, the story of three generations of a pioneer family in Florida and a story portraying the tenacity of American pioneers: how they survived and prospered in an often hostile environment. There are those still around today in Florida who sat across the dinner table from grandparents and heard first hand similar stories from those who where there when it happened.
This is the novel for which its author, Patrick Smith, is probably best known. A Land Remembered vividly demonstrates his keen and penetrating eye as a gifted observer of the human condition. Not a word is wasted in what many believe is the definitive story of Florida's emergence into modern day history. ~ Warren Resen
A Land Remembered was winner of the Florida Historical Society Tebeau Prize as the Most Outstanding Florida Historical Novel. In 2009 it was voted Best Florida Book for the 9th year in a row by readers of Florida Monthly Magazine.
Whether you are a Florida native, a newcomer to the state, a student of history or simply looking for an unforgettable book to read, you will love A Land Remembered.
(Book information from the author's website)
April 22: "My Korean Deli: Risking It All for a Convenience Store" by Ben Ryder Howe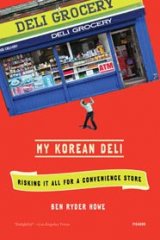 This warm and funny tale of an earnest preppy editor finding himself trapped behind the counter of a Brooklyn convenience store is about family, culture, and identity in an age of discombobulation.
It starts with a gift, when Ben Ryder Howe's wife, the daughter of Korean immigrants, decides to repay her parents' self-sacrifice by buying them a store. Howe, an editor at the rarefied Paris Review, agrees to go along. Things soon become a lot more complicated. After the business struggles, Howe finds himself living in the basement of his in-laws' Staten Island home, commuting to the Paris Review offices in George Plimpton's Upper East Side townhouse by day, and heading to Brooklyn at night to slice cold cuts and peddle lottery tickets. My Korean Deli follows the store's tumultuous life span, and along the way paints the portrait of an extremely unlikely partnership between characters with shoots across society, from the Brooklyn streets to Seoul to Puritan New England. Owning the deli becomes a transformative experience for everyone involved as they struggle to salvage the original gift—and the family—while sorting out issues of values, work, and identity.
(Book information from publisher's website)
May 28: "The Inner Circle" by Brad Melzer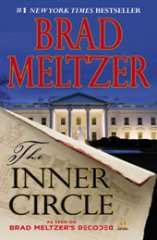 The best-kept secret of the U.S. Presidency is about to be revealed.
"There are stories no one knows. Hidden stories. I love those stories. And since I work in the National Archives, I find those stories for a living."  Beecher White, a young archivist, spends his days working with the most important documents of the U.S. government. He has always been the keeper of other people's stories, never a part of the story himself . . .
Until now.
When Clementine Kaye, Beecher's first childhood crush, shows up at the National Archives asking for his help tracking down her long-lost father, Beecher tries to impress her by showing her the secret vault where the President of the United States privately reviews classified documents. After they accidentally happen upon a priceless artifact-a two-hundred-year-old dictionary that once belonged to George Washington-hidden underneath a desk chair, Beecher and Clementine find themselves suddenly entangled in a web of deception, conspiracy, and murder.
Soon a man is dead and Beecher is on the run as he races to learn the truth behind this mysterious national treasure. His search will lead him to discover a coded and ingenious puzzle that conceals a disturbing secret from the founding of our nation. It is a secret, Beecher soon discovers, that some believe is worth killing for.
(Book Description from the author's website http://www.bradmeltzer.com/novels/inner-circle/inner-circle.aspx)
June 24: "The Imperfectionists" by Tom Rachman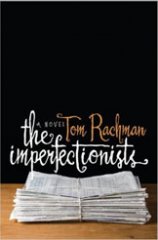 'Off the record, who is it?'
He hesitates.
'I don't see why you need to know.'
But he does see, of course.
'It's my son.'
Their chuckles are audible over the speakerphone.
'Are you serious?'
Lloyd Burko is having troubles with his sources, with his technology at the paper, and with his family. Deadline is closing in and he is falling apart. The Imperfectionists is a novel about the quirky, maddening, endearing people who write and read an international newspaper based in Rome: from the obituary reporter who will do anything to avoid work, to the young freelancer who is manipulated by an egocentric war correspondent, to the dog-obsessed publisher who seems less interested in his struggling newspaper than in his magnificent basset hound, Schopenhauer.
With war in Afghanistan and Iraq, the climate in meltdown and bin Laden still in hiding, the paper has plenty to fill its columns. But for its staff, the true front-page stories are their own private lives. As this imperfect bunch stumbles along, the era of high terror and high tech bears down, the characters collide, and the novel hurtles toward its climax…
(Book information from the author's website)
July 22: "Wild Fire: A John Corey Novel" by Nelson DeMille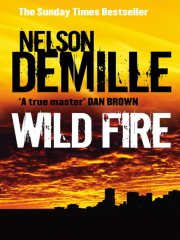 From #1 New York Times bestselling author Nelson DeMille comes a suspenseful new novel featuring Detective John Corey and his wife, FBI agent Kate Mayfield, in an all-too-plausible conspiracy to detonate a nuclear bomb in two major American cities.
Welcome to the Custer Hill Club—a men's club set in a luxurious   Adirondack hunting lodge whose members include some of America's most powerful   business leaders, military men, and government officials. Ostensibly, the club   is a place to relax with old friends. But one fall weekend, the club's Executive   Board gathers to talk about the tragedy of 9/11—and finalize a retaliation plan,   known only by its codename:Wild Fire.
That same weekend, a member of the Federal Anti-Terrorist Task Force is found dead. Soon it's up to Detective John Corey and his wife, FBI Agent Kate Mayfield to unravel a terrifying plot that starts with the Custer Hill Club and ends with American cities locked in the crosshairs of a nuclear device. Corey and Mayfield are the only ones who can stop the button from being pushed, and global chaos from being unleashed…
(Book information from the author's website)
August 26: "March" by Geraldine Brooks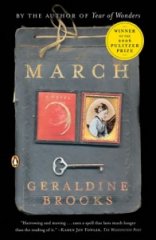 From Louisa May Alcott's beloved classic Little Women, Geraldine Brooks has taken the character of the absent father, March, who has gone off to war leaving his wife and daughters. To evoke him, Brooks turned to the journals and letters of Bronson Alcott, Louisa May's father, a friend and confidant of Ralph Waldo Emerson and Henry David Thoreau.
In Brooks' telling, March emerges as an idealistic chaplain in the little known backwaters of a war that will test his faith in himself and in the Union cause as he learns that his side, too, is capable of acts of barbarism and racism. As he recovers from a near mortal illness, he must reassemble his shattered mind and body, and find a way to reconnect with a wife and daughters who have no idea of the ordeals he has been through.
From the vibrant intellectual world of New England and the sensuous antebellum South, March adds adult resonance to Alcott's optimistic children's tale and portrays the moral complexity of war, a marriage tested by the demands of extreme idealism, and by the temptations of a powerful forbidden attraction.
(Book information from the author's website)
September 23: "Strength in What Remains" by Tracy Kidder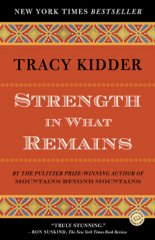 Strength in What Remains is the story of Deogratias, a young medical student from the central African nation of Burundi. Through no fault of his own, he was forced onto a terrifying journey, a journey that split his life in two. First there was a six-months-long escape on foot from ethnic violence in Burundi and from genocide in Rwanda. Almost by accident he ended up in New York City, where he lived for a time in Central Park.
When I first heard Deo's story, I had one simple thought: I would not have survived. I hoped in part to reproduce that feeling in recounting what seems to me a rich tale: an adventure story, a survival story, an immigrant's story, a story of despair and determination, of evil and kindness. I also hoped to humanize what, to most westerners anyway, is a mysterious, little-known part of the world. But above all, I wanted to address the question of how one survives the torment of memories like Deo's, memories with a distinctly ungovernable quality.
Although Deo is now an American citizen, he has chosen to return to Burundi repeatedly. With the help of family and American friends, he has built a clinic and public health system amid the postwar wreckage of a rural village — part of a beginning, he hopes, of a new Burundi. This facility was a pile of rocks when I visited the site in the summer of 2006. By the fall of 2008, it had grown into a medical center with several new buildings, a trained professional staff, and a fully stocked pharmacy. In its first year of operation it treated 21,000 different patients. The organization that Deo founded and that sponsors and operates this facility is called Village Health Works.
(Book information from the author's website)
October 28:"The Uncommon Reader" by Alan Bennett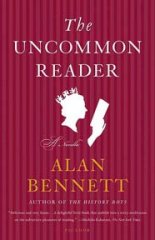 From one of England's most celebrated writers, the author of the award-winning The History Boys, a funny and superbly observed novella about the Queen of England and the subversive power of reading
When her corgis stray into a mobile library parked near Buckingham Palace, the Queen feels duty-bound to borrow a book. Discovering the joy of reading widely (from J. R. Ackerley, Jean Genet, and Ivy Compton-Burnett to the classics) and intelligently, she finds that her view of the world changes dramatically. Abetted in her newfound obsession by Norman, a young man from the royal kitchens, the Queen comes to question the prescribed order of the world and loses patience with the routines of her role as monarch. Her new passion for reading initially alarms the palace staff and soon leads to surprising and very funny consequences for the country at large.
(Book information from the publisher's website)
November 25: "Tears in the Darkness: The Story of the Bataan Death March and Its Aftermath" by Michael Norman and Eliabeth Norman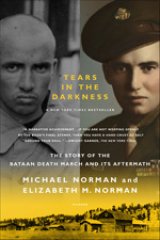 Here, from Michael Norman and Elizabeth M. Norman, is the story of the worst defeat in American military history, the four-month fight for the tiny peninsula of Bataan in the Philippine Islands – the first major land battle for America in World War II. On April 9, 1942, more than 76,000 men under American command surrendered to their Japanese captors, who set them walking sixty-six miles to prison camp, a notorious walk that came to be known as "The Bataan Death March."
"Tears In the Darkness" is history written as story, thousands of sources and hundreds of interviews carefully woven into a tight narrative that recreates those dramatic days and the men – Americans, Japanese and Filipinos – who lived them.
This book has a multimedia website with a reading guide and blog: www.tearsinthedarkness.com
---
Meetings & Book Selections from 2012
August 27: "The Girl in Hyacinth Blue" by Susan Vreeland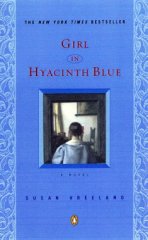 A Dutch painting of a young girl, possibly a Vermeer, survives three and a half centuries through loss, flood, anonymity, theft, secrecy, even the Holocaust. This is the story of its owners whose lives are influenced by its beauty and mystery. Despite their unsatisfied longings, their own and others' flaws, the girl in hyacinth blue has the power to engender love in all its human variety.
"One of the 25 most distinguished novels of 1999."   –Publishers Weekly
"Insightful observations about the worth and the truth of art….Elegantly executed, with characters who have the solidity, and the elusive mystery, of Vermeer's subjects….One wants to read these tales at one sitting….Vreeland paints her canvas with the sure strokes of a talented artist." — Publishers Weekly
September 24 – "The Last Brother" by Nathacha Appanah, Translated by Geoffrey Strachan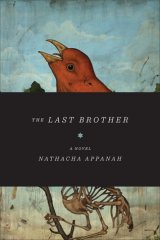 As 1944 comes to a close, nine-year-old Raj is unaware of the war devastating the rest of the world. He lives in Mauritius, a remote island in the Indian Ocean, where survival is a daily struggle for his family. When a brutal beating lands Raj in the hospital of the prison camp where his father is a guard, he meets a mysterious boy his own age. David is a refugee, one of a group of Jewish exiles whose harrowing journey took them from Nazi occupied Europe to Palestine, where they were refused entry and sent on to indefinite detainment in Mauritius.
A massive storm on the island leads to a breach of security at the camp, and David escapes, with Raj's help. After a few days spent hiding from Raj's cruel father, the two young boys flee into the forest. Danger, hunger, and malaria turn what at first seems like an adventure to Raj into an increasingly desperate mission.
This unforgettable and deeply moving novel sheds light on a fascinating and unexplored corner of World War II history, and establishes Nathacha Appanah as a significant international voice.
(Book Description found on www.amazon.com)
October 22 – "Clouds from Both Sides: An Autobiography" by Julie Tullis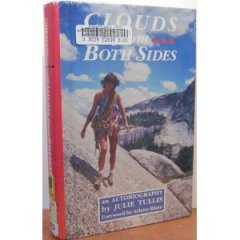 A British woman who began serious mountain climbing after age 40 tells her life story, with special emphasis on how she made a new career as an award-winning mountain cinematographer in what were to be the last five years of her life. She died in 1986, descending from the summit of K-2. While her Himalayan expeditions occupy the last half of the book and are told with the unique viewpoint of a woman photographer, the early pages are also unusual. Julie and her husband Terry Tullis operated a rock-climbing school near Tunbridge Wells that offered programs to handicapped and disturbed children and adults. Her experiences suggest how much is lacking in American programs for blind and emotionally disturbed youths.
(Book cover found on amazon.com, Description found on Chessler Books www.chesslerbooks.com)
November 26 – "84 Charing Cross Road" by Helen Hanff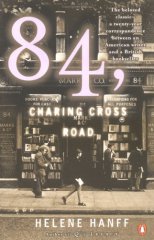 It all began with a letter inquiring about second-hand books, written by Helene Hanff in New York, and posted to a bookshop at 84, Charing Cross Road in London. As Helene's sarcastic and witty letters are responded to by the stodgy and proper Frank Doel of 84, Charing Cross Road, a relationship blossoms into a warm, charming, feisty love affair.
(Book Description courtesy of Barnes & Noble)